What are Vertical Blinds?
December 23, 2020
What are Vertical Blinds?
As the name implies, vertical blinds are window coverings that feature strips of fabric or other material that run vertically, side-by-side.  Generally speaking, these lengths of material (also known as slats) are attached to a track along the top of your window and are opened and closed with a plastic rod and or chain.  The slats are usually weighted at the bottom which ensures they remain parallel whether the blinds are open or closed.  Additionally, extra stability is created as the slats are connected with a chain that runs along the bottom of the blinds.
The design of vertical blinds is newer than horizontal blinds, but they offer many of the same features.  Because the slats can be rotated, vertical blinds allow for exceptional light control.  Additionally, much like curtains or drapes, vertical blinds can be drawn open or closed to allow for more or less privacy.  Unlike alternative window coverings such as horizontal blinds or roller blinds, vertical blinds are well-suited for large windows, patio doors, and tall windows without compromising light or privacy control.
For sloped or pitched windows, vertical blinds also work well because the lengths of the slats can be tailored to accommodate various angles.  They make an attractive window covering for these kinds of windows that also highlight the style of the window.  Plus, vertical blinds provide a contemporary style that matches well with clean and sophisticated design choices.  The simple design of vertical blinds is such that they enhance the features of a window and likewise the style of a room without distracting the eye.
Fortunately, vertical blinds are also easy to maintain.  For most vertical blinds, a quick wipe with a damp cloth once very few weeks is enough regular maintenance to keep them looking great and functioning well.  On the other hand, the construction of horizontal blinds makes them a little more challenging to clean as they can trap dust more easily.  Even when vertical blinds require a deeper clean, they can usually easily be removed to allow the track and the slats to be more thoroughly cleaned.
Finally, another benefit of vertical blinds is that they are available in a wide range of materials and to suit many functions.  For example, blackout vertical blinds are made from materials that provide total privacy and light blockage.  These are excellent for bedrooms or other spaces where privacy and light control are of paramount importance.  Additionally, vertical blinds are made from a range of fabrics and other materials so you can find a wide variety of colours and patterns to suit your personal style preferences.  When it comes to versatile window coverings, there are few options that compare with vertical window blinds.
Pictures of Drapes and Shades from past projects
December 15, 2020
Roman Shade Styles
November 24, 2020
Roman shades are roman shades, aren't they?  In fact, these soft fabric window coverings are versatile with respect to both aesthetic and function.  Roman shades are an increasingly popular window treatment because they match well with any décor – contemporary, traditional, elegant, or sleek.  When you really want to make a design statement, roman shades are an excellent choice; but they're more than just a pretty accent for your windows – roman shades offer a range of functional benefits making them a great fit for any room.
The streamlined appearance of roman shades combined with the classic feel of fabric on windows belies the functional range of these blinds.  Designed from a solid piece of fabric that folds into even stacks when raised or lowered, roman shades are also available in rolling varieties.  Rolling roman shades do not feature internal cords while the stacking alternative eliminates exposed cords – both offer excellent safety features for homes with young children.  These functional features also lend to the clean aesthetic of roman shades.
In addition to rolling or folding, the main styles of roman shades are flat roman shades and soft fold roman shades.  Flat roman shades are named as such because they hang flat to the window.  Typically, they fold neatly along the top when lifted.  Flat roman shades are slim and fit well with sliding doors and French doors.  Soft fold roman shades essentially fold loosely and create a looped appearance when raised.
Roman shades are also available in a wide range of fabrics to bring rich colours, beautiful textures, and unique details to style your windows.  Likewise, the variety of fabrics lends functional features as well.  Polyester roman shades, for example, are easy to clean and stand up well to the rigours of family life.  Moreover, different materials mean you have more options for light control.  From sheer to black out, roman shades provide the privacy control you want or need.
Roman shades also feature many technological advances in window coverings.  I'm sure you never considered the "technology" of blinds or shades, but roman shades are among the most advanced.  Roman shade designs have been integrated with cellular shade designs to provide exceptional energy efficiency properties.  This means less heat loss in the winter and cooler indoor temperatures in the summer as well as reduced energy costs.  Once again, all roman shades are available in a number of woven and non-woven fabrics with various choices for colour, texture, pattern, and privacy.
So whatever your design preference, functional need, or budget, you're sure to find beautiful roman shades that suit your unique purpose.  Kitchens, bathroom, living rooms, and bedrooms can all be fitted with roman shades that are suited perfectly to their environment. 
How to Pick Blinds for your Home
October 21, 2020
Choosing the right blinds for your home requires careful consideration of the characteristics of blinds.  From light control and insulation to aesthetics, window shape, and cost – knowing how to pick blinds for your home will help you find the perfect match for your home.  By identifying and prioritizing your preferences for window coverings, you can more easily navigate the wide variety of window blinds available today and choose the blinds that work best for any room or style.
Light
When it comes to light control, you have many options including light filtering blinds, blackout blinds, and blinds with slats.  Light filtering window treatments are essentially translucent and allow a moderate amount of light to pass through.  These types of blinds are often found in kitchens and dining areas.  On the other hand, blackout blinds are exactly as they sound – they completely block the passage of light making them a great option for bedrooms and even living rooms.  Blinds may also feature slats that can be adjusted to control the amount of light entering a room.  On the other hand, shades do not feature slats which makes them great for privacy but provide less control over lighting.
Insulation
Some blinds are designed to improve energy efficiency.  If you live in a climate with extreme temperatures (hot or cold), insulated window treatments can save you up to 25% on your annual heating and cooling costs.  Cellular shades, which are also known as honeycomb or cell shades, are the most common style of window blinds for improved insulation.
Aesthetics
Of course, when you are investing in window treatments, you are also probably considering the aesthetic impact of your new blinds.  Consider the colour, style, patterns, and even materials used in the fabrication of your window blinds to find the ideal treatment to complement the style and design of your home.
Shape
Blinds can be made to fit almost any shape of window including oversized windows, arch windows, doors, skylights, and uniquely shaped windows.  In many cases, you'll have to choose custom blinds to accommodate irregular window shapes; whereas rectangular windows can often be fitted with pre-fabricated blinds in standard sizing.
Cost
The final consideration in choosing the right window blinds is cost.  In general, custom blinds will cost more so it's important to consider whether your home's windows will require custom blinds.  Once again, unique window shapes or sizes will often require custom blinds and you should expect this to impact your budget for window treatments.  Also, certain materials (particularly natural fibers and real wood blinds) tend to cost more.  Nevertheless, no matter your style or budget, you are sure to find the right window treatments for your home as long as you take the time to carefully review the many options available to you and choose the treatment that fits your home and your budget.
Another Project by Arlene's – Custom Drapes and Blinds
September 24, 2020
Custom vs Store Bought Blinds
September 21, 2020
Custom vs Store Bought Blinds
Updating your window coverings can have a huge impact on the appearance of any room.  Whether you are looking to adapt your style or your old window coverings have seen better days, upgrading your window treatments requires careful consideration of the many options available to you.  Curtains and window blinds are among the most common options for window treatments; but even when you decide to go with window blinds, there are still many options from which to choose.  One of the most important considerations is whether to go with custom or store bought blinds.  Because custom blinds tend to be more expensive, many home owners seek store bought alternatives.  That being said, there are many benefits to choosing custom versus store bought blinds.  Fit, style, and function can be perfectly matched to your home and needs when you choose custom window blinds.
Fits like a Glove
No matter the shape or size of your window, custom window blinds make the perfect fit every time.  Store bought blinds tend to be available only in standard window sizes and homeowners often have to compromise the fit of width, length, or both when choosing store bought blinds over custom blinds.  Unfortunately, without the perfect fit, you also compromise light and privacy control, not to mention the impact on design.  Custom blinds are made to the exact dimensions of your windows so make a better choice especially for oddly sized or shaped windows.
Your Home, Your Style
Another benefit of custom window blinds is the variety of style options available.  You can choose between different types of blinds and different materials so that you achieve the ideal aesthetic for your home.  Many basic, store bought blinds are available in limited colours and materials whereas the only limits on custom blinds are the limits of your imagination.
It's a Match!
When homeowners choose to replace all the blinds in their home, custom blinds are often the preferred choice for consistency.  Not only will you struggle to find matching blinds when your windows are not standard sizes, you may not always be able to get matching store bought blinds for all your windows – it really depends on the variety of sizes offered by the manufacturer.  Custom blinds are built for your home and your windows, so making sure they match is easy.  You'll get the right size, the right materials, and the right finish for a polished, consistent home style.
Quality
Finally, customer window blinds are certainly more expensive than store bought alternatives, but they are often made from high quality, durable materials.  They are designed to last for years while also providing bonus features such as energy conservation and sound control in addition to light and privacy control.
So, while you may find that you need a bigger budget for custom blinds, the benefits of these window treatments over store bought blinds make them a great investment in the long run.
Honeycomb Blinds
August 24, 2020
Honeycomb blinds, also known as honeycomb shades, are among the newest and most advanced styles of blinds available as window coverings today.  Featuring optimal energy efficiency, these cellular shades were designed to provide improved temperature control regardless of the season or climate.  As such, honeycomb blinds are a great choice for window coverings for both residential and commercial properties and for all types of windows including skylights and uniquely-shaped windows.  Let's take a closer look at some of the key features of honeycomb blinds.
Energy Efficiency
Did you know that windows are responsible for up to 30% of energy loss from you home?  While energy efficient windows can make a significant impact on your annual energy bills, they are also an expensive renovation for your home.  As an affordable alternative, honeycomb blinds can also reduce your energy bills as they are designed to improve insulation around your window.  Indeed, honeycomb blinds are some of the most advanced designs when it comes to reducing heating and cooling costs in your home.
Versatile Style
The design of honeycomb blinds makes them an attractive addition to your home or office, but they are also available in a wide range of materials and colours meaning they are an especially versatile option that can match the décor of any space.  Rich textures, colours, and patterns make honeycomb blinds a beautiful accompaniment to your windows.
Sound Control
Additionally, because of their construction, honeycomb blinds are exceptional window covering choices for sound control.  You can not only improve the acoustics in a room, you can block outside noise better.  This means that honeycomb blinds can contribute to a much more peaceful and relaxing living or working environment.
Light Control
In addition to sound control, these window coverings are great for improved light control.  Depending on the fabric and colour you choose, honeycomb blinds can absorb and deflect incoming light so many home owners choose honeycomb blinds specifically for bedrooms or other areas where privacy and light control are key.
Durability
High quality honeycomb blinds made from quality fabrics are not only sturdy but resistant to fading.  When you want a crisp and clean look that lasts, honeycomb blinds are the ideal window covering.
In today's design world, there are many attractive window coverings available that can make an impressive impact on the style of any room.  While honeycomb blinds are just one of the many choices for home and business owners to elevate the look of their space.  Choosing the right blinds can certainly be a complicated process, so whether you are looking for honeycomb blinds or other window coverings contact a design specialist.  Ultimately, getting the right blinds can help you create the perfect environment for your home or office.
What are Motorized Blinds?
July 21, 2020
Sure, there were many different fabrics made with various designs and colours, but there were curtains.  Today, window coverings have come a long way and the style choices available are impressive – you can choose from curtains, shades, and blinds, but even within each of these categories there are myriad options to consider.  Among the most advanced window coverings are motorized blinds.  But, what are motorized blinds?
Let's start with a simple definition – motorized window blinds are blinds that can be raised and lowered mechanically.  The blinds are controlled with a motor which can likewise be controlled through a remote control or other device.  Motorized blinds are sophisticated and convenient, so it should come as no surprise that these window coverings are the go-to choice for smart homes.  Indeed, even the way we control motorized blinds has changed drastically over the last couple decades.
That's right, motorized blinds have been available for at least 20 years; but these window coverings traditionally were controlled by a simple "up/down" switch.  Recent advances in technology allow for motorized blinds to be controlled even when you're not at home.  For example, motorized blinds can be set on a timer so they can be raised and lowered at specific times of the day – even when you are at work or away on vacation.  In fact, motorized window coverings have become so advanced that you can even control them with an app.
There are many benefits to installing motorized blinds – convenience, security, functionality, and style.  As already suggested, motorized window coverings are exceptionally convenient.  Controlling their movement with the push of a button or even through modern apps makes these window coverings the ideal choice for your home.  Additionally, the convenience of motorized window blinds makes them perfect for office spaces or any building with multiple rooms and windows.  Even hard-to-reach windows can be adorned with motorized blinds so that you can easily control light and privacy.
Another great benefit of motorized blinds is additional security.  Because you can program them to open and close at different times of the day or even have complete control through apps and other devices when you're not home, you can give the illusion that somebody is always home even when you're away.
Motorized blinds are also functional in homes, offices, and other workspaces from salons to retail outlets.  Consider the time and energy you can save by programming your blinds to open and adjust throughout the day depending on the amount of light or privacy required.  Many motorized blinds feature multiple programs so you can have absolute control with minimal effort.
Finally, motorized window blinds are unique and stylish.  They come in a variety of designs and fabrics so you can find the perfect fit for any space.
Residential Window Films
June 23, 2020
You may think that window tint is an attractive way to improve privacy for your home, but did you know that aftermarket residential window films are a great way to save energy while improving your home's aesthetics?  For the most part, residential window films can be applied easily and offer many benefits, but they may or may not be right for your home.  Let's take a closer look at residential window films to determine if they are a good investment for you.
First of all, we've alluded to the fact that window films can enhance aesthetics, privacy, and energy efficiency, but it's important to note that not all films are the same.  Indeed, there are many types of residential window films, but the three primary varieties are solar, security, and decorative.
Solar window films are designed to improve energy efficiency. These films feature medium-thickness and are designed to absorb or reflect sunlight so that indoor temperatures are more stable.  Additional benefits of these films are that they reduce glare and prevent fading of indoor furniture and decorations.  Solar residential window films are available in a variety of tones from silver to copper.
Security residential window films are the thickest window films available. While they are not designed to moderate temperatures, they provide extra strength to windows so they are less likely to break during storms or from intruders.
Decorative window films tend to be the thinnest and offer some of the benefits of solar window films as they minimally reflect or absorb heat. However, the primary function of decorative films is to improve privacy and curb appeal.  You can find these residential window films in a wide range of tones and patterns included stained-glass designs, frosted designs, and even completely opaque tones.
If you what type of window film you want, you're on the right track.  The next thing to consider is whether the residential window film is compatible with your window.  Solar window films are often not suitable for certain types of window glass as they may cause cracking.  Clear annealed glass windows thicker than 3/8 inch or with heat absorption rats greater than 50%, tinted annealed glass thicker than ¼ inch, and insulated glass installed over 10 years ago are likely not suitable for solar window films.  Always review manufacturer's recommendations before purchasing or installing residential window films.
Finally, while residential window films can usually be installed easily by the homeowner, you should check your window warranty first.  Many warranties are voided when you install residential window films – regardless of whether the films have been installed by a professional or not.  Most aftermarket window modifications void window warranties, so be sure to carefully review your warranty before making any modifications.
Blind Styles
May 21, 2020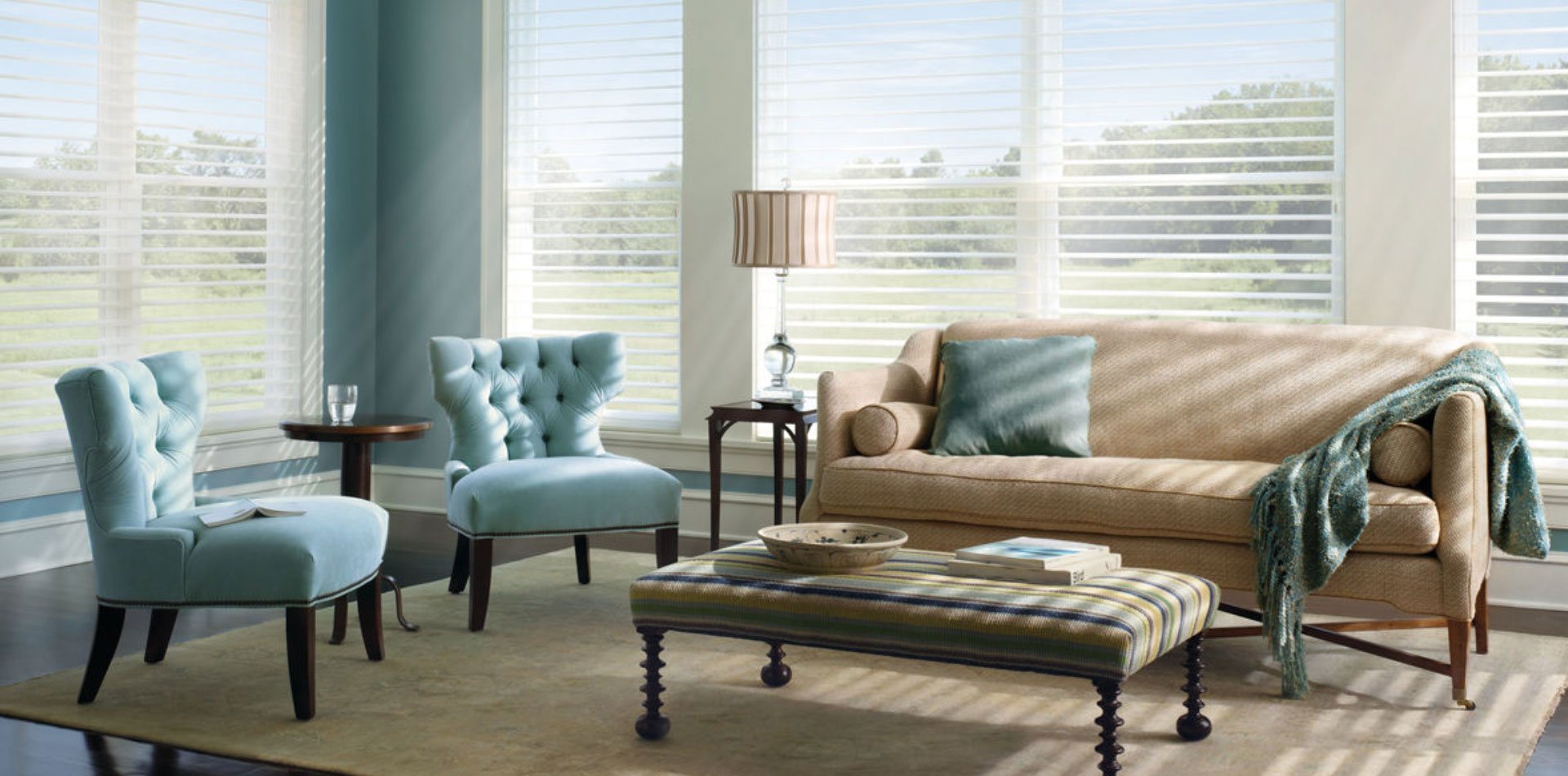 Not only do blinds come in a variety of sizes, materials, and colours, there are also different blind styles to dress windows.  Whether you are looking for blinds for a particular window type, you are contemplating privacy or light control, or you have a particular room style that you want to accent, blind styles can have a significant impact on the ambiance of a room.  In this guide, we'll provide a brief review of the main blind styles to help you pick the right blinds for your home.  Let's get started!
Hive Blinds
Among the newer designs for blinds, hive blinds are typically made from fabric material and feature a cellular, pleated structure that provides exceptional temperature and sound control.  Hive blinds are the ideal choice for more modern room styles as they offer a sleek and contemporary look.  These blinds are perhaps the most advanced when it comes to technology – they have anti-static properties that repel dust in addition to the sound and temperature control properties already mentioned.  Hive blinds are usually available in a variety of fabrics including blackout and luxury fabrics.
Mirage Blinds
When you are looking for optimal light control, mirage blinds are excellent.  Mirage blinds can be opened or closed completely, but also you'll find they offer the flexibility to adjust light control anywhere in between.  Plus, mirage blinds are available in a wide range of fabrics including those with textures or patterns as well as many different colours.  Mirage blinds make a beautiful addition to any room.
Pleated Blinds
Also known as cellular blinds, pleated blinds are a modern take on the classic design.  With both standard and blackout options, as well as an impressive selection of colours and fabrics, pleated blinds are always at the forefront of design trends.
Roller Blinds
Affordable, modern, and versatile – roller blinds are a great fit for any room of the house.  With an exceptional variety of technical features including moisture and mildew resistance, easy maintenance, and diverse fabrics, roller blinds are an increasingly popular choice for kitchens and bathrooms.  But don't be fooled, these beautifully designed blinds are also and affordable fit for bedrooms and living rooms.
Roman Blinds
Classic roman blinds bring an air of elegance to any room.  If you really want to make a statement with your window coverings, roman blinds are the choice for you.  Roman blinds never go out of style and they are ideal for living rooms and bedrooms.
Venetian Blinds
When you're looking for a no-nonsense window covering that is affordable and easily maintained without compromising style, consider Venetian blinds.  These blinds are constructed from a wide range of finishes and materials so you can always find the right colour for any space.
Vertical Blinds
Finally, vertical blinds are nothing new when it comes to window coverings.  With a simple look and diverse textures, patterns, and colours available, vertical blinds represent the quintessential window covering.  Optimal light control, various performance features, and a variety of designs, vertical blinds work well in any room of your home.
Blinds Vancouver
March 26, 2020
Blinds are probably the most common window treatment in homes today.  Regardless of your lighting or privacy requirements, blinds can accommodate you needs in any room of the house – kitchens, bathrooms, living rooms, and bedrooms. 
At Arlene's Interiors, we can help you choose the right window treatments for any space, and our team of professional designers is highly knowledgeable about window blinds including the variety of styles and materials that make up these common, contemporary window treatments.
Choosing the right blinds for your home can be a difficult task.  You not only need to consider functional implications of the blinds you choose, but also your personal style.  Are you looking for a traditional window treatment or are you more contemporary in your design choices?  Perhaps you land somewhere in the middle of the design spectrum – but no matter your personal preferences, there are certainly blinds that can beautifully and practically provide you with the right fit for your home or room.
Our team at Arlene's Interiors has been serving the Metro Vancouver region for more than three decades.  We work closely with some of the most respected professional decorators in the area and provide a wide range of custom window blinds that serve the unique needs of our clients.  Our blinds are available in almost any style or material you can imagine, and we pride ourselves on offering an incredible selection of custom window treatments because it means we can help our customers find the right fit and the right function for their window treatments.
So, what do you need to know about window blinds?  First, it's important to understand that blinds come in a variety of styles.  At Arlene's Interiors, we offer blind styles such as honeycomb, shades, sheers, and shutters as well as vertical and horizontal blind designs.  Depending on your lighting or privacy needs, you'll find that different styles of blinds offer different benefits.  Indeed, even within categories of blind styles, you'll find a range of attractive options that meet your unique needs.
Additionally, blinds can be constructed from many different materials and built to accommodate any window type.  Even for custom windows with unique shapes, we're sure to help you find the right blinds at Arlene's Interiors.  So whether you are looking for a particular material such as fabric, wood, or vinyl, or you want window treatments for a particular window type such as arched windows, bay windows, or French doors, Arlene's interiors is dedicated to delivering on your unique window treatment goals.
Blinds from Arlene's Interiors are constructed to provide optimal quality and aesthetic appeal.  We know that the perfect blinds can elevate the design of any room while also giving you optimal control over lighting and privacy.  Contact us today to learn more about how window blinds can transform your home.
How to Choose Blinds for your Home
February 26, 2020
It probably comes as no surprise that there are many different types of window blinds available on the market today.  Vertical and horizontal blinds are available in a myriad of materials, sizes, and colours so choosing the right blinds for your home can be tricky.  Still, as an alternative to curtains and drapes, blinds can be an attractive, functional, and affordable window treatment that gives you more control over lighting while bringing sophistication and elegance to any room.
Since we're comparing blinds and shades, let's have a closer look at the different types of each and reasons you may choose them for your home.
Wood blinds, faux wood blinds, vertical blinds, aluminum blinds, and insulating blinds are some of the most popular available today.  Wood and faux wood blinds are stylish and fit well into contemporary or traditional designs as they are simple but bring a sense of warmth to a room.  Faux wood blinds tend to be more durable and make a great choice for bathrooms, kitchens, or rooms with a lot of moisture.  Vertical blinds are also very durable, but also affordable.  Additionally, vertical blinds are a great choice if you want better light control or for large windows or sliding doors.  Aluminum blinds are durable, sleek, and stylish and make a great choice for living rooms and bedrooms.  Finally, as the name implies, insulating blinds provide insulation for energy savings while also providing exceptional light control.
There are also many kinds of window shades that make a great option for different rooms in the house.  Roman shades are very stylish, easy to operate, and can be ordered with blackout fabrics.  Cellular shades are simple and attractive, and provide great privacy and light filtering.  Roller shades are great if you like soft light but also privacy.  Finally, solar shades provide great light control for south-facing rooms.
Ultimately, choosing between window shades or blinds for your home comes down to personal preference, but also function and budget.  If you're having difficulty making the right choice for your home, consider speaking to a designer or other professional to help you narrow your options to the most suitable designs and styles for your home.
Motorized Window Coverings
January 21, 2020
Whether you are looking for privacy, light control, or simply enhancing your home's décor, you are on the market for new window coverings. Today, there are many options to choose from including blinds (vertical or horizontal), shades, and curtains and drapes. An increasingly common choice for homeowners, motorized window coverings are a convenient option that provides the privacy and light control you need in a variety of attractive designs. Indeed, motorized window coverings give you unparalleled control and adjustability without compromising style.
Many homeowners cite ease of use as the main reason they choose motorized window coverings. Using a remote control, motorized blinds, shades, and curtains can be raised, tilted, and closed without ever leaving the comfort of your chair. Plus, for hard to reach windows, motorized window treatments provide a safe and effective alternative to climbing stools, steps, or ladders to make minor adjustments at skylights or floor-to-vaulted ceiling windows.
Likewise, for south facing windows or for homes in climates with long summer days, motorized window coverings allow you to adjust your blinds for perfect lighting. With motorized treatments, gone are the days when you suffer through glare on screens or sunny early mornings that interrupt your sleep. Most motorized treatments allow you a wide range of adjustment options so you can set your blinds and window coverings to the exact position for any situation.
The technology of motorized window treatments is also advancing. In the past, you may only have the option to open, close, or tilt blinds and other coverings; but now with smart homes and mobile apps, you can schedule your window coverings to open and close at convenient times and even control them from the road. Your smart phone or tablet essentially gives you access to adjust your window coverings from anywhere in the world. For many homeowners, this means added security because you never need to worry about whether you closed your blinds, but also you can give the appearance of being home when you're actually miles away…even hundreds or thousands of miles away.
When you make the switch to motorized window coverings, you will wonder what took you so long. Motorized window treatments give you ultimate control and convenience as you adjust your windows treatments from anywhere in your home and indeed anywhere in the world. So, if you're looking for new, attractive, and convenient ways to manage window treatments, you should consider motorized options. These are certainly the future of window coverings and they allow you to control privacy and light even in the most difficult to reach locations. Plus, motorized window treatments are sophisticated, luxurious, and attractive. There are so many great reasons to invest in motorized window coverings – what are you waiting for?
Visit one of our showrooms or click here for a complimentary consultation. We look forward to helping you make the most of your windows!
Are Window Coverings the Best Investment You Can Make in Your Home?
November 4, 2018
Whether it's called "buy it once" or "buy it for life," there's a growing movement to buy quality, well-crafted products over disposable ones. Lasting, high-quality products ultimately save you money and create less waste. That's a win-win for your budget and for the environment.
Of course, this only works if you can find products that you love enough to keep for many years!
Window treatments are an excellent "buy it once" option. At Arlene's, we believe in doing it right the first time, and all our Hunter Douglas blinds and shades come with a lifetime guarantee.
But why should you pay particular attention to investing in quality window treatments? Here are five considerations when you're selecting blinds, shades and draperies for your home.
Get "fit" by customizing
You don't want your blinds scraping the casement in your kitchen, or your shades to hang short in your living room. And if you have young children, you definitely don't want their blackout curtains to leak light and cause them to wake up too early – so they end up waking you too early!
Blinds, shades, sheers and other treatments are there to give you control over how light enters your space. They can filter light, block it, or allow it inside in all its glory. To do this, they need to fit.
Getting your window treatments professionally tailored – so that they fit your home's precise specifications – ensures that they will do what they are designed to do. When exploring your interior design options for your windows, look for brands, outlets and showrooms that offer customized products.
Protecting your (other) investments
Furniture, carpets, fine rugs, antiques, and paintings all have something in common: they can all be damaged by the sun's ultraviolet rays. Blinds and shades are a big help in preventing the discoloration and fading caused by glare and direct sun, and there's another elegant solution: professionally installed window films. These are excellent for spaces where you want to have natural light filling the room most of the time.
Our window films come in a variety of shades. They not only reduce glare, but block more than 99% of all UV radiation entering your home using their patented UVShield® technology. These films protect all the valuables in your home that are vulnerable to ultraviolet rays.
They also have a safety aspect that offers additional peace of mind: if an accident or storm should break your window, window films can help protect you and your family by preventing the glass from shattering.
Invest in family-friendly safety
Are your window treatments family friendly? Hunter Douglas offers a wide range of child-friendly (and pet-friendly) window treatment systems that eliminate entanglement issues. Their options for cordless manual systems and retractable cords— and even motorized blinds and shades that can be operated by remote control— offer the highest standards for safety while providing a clean, uncluttered appearance wherever they're installed.
Style that lasts
With so many styles of window treatments it can be hard to make decisions. Blinds vary in slat width, material and colour. Shades come in several different types, from roller shades to Roman shades to honeycomb (also known as cellular) shades. Many can be combined with draperies for looks that range from contemporary to classic.
All of these are high-quality options, but it takes time to figure out your best choice. None of us have unlimited time – so what do you do when you want to make a home decorating purchase that will last?
Professional design consultants like those at Arlene's can give you a big head start. They'll help you cross off some options and zero in on the styles that you love, as well as the types of window treatments that best suit the various rooms of your home.
Keeping cool – and warm
Blinds, shades and draperies filter or block the direct sunlight that can heat up your home in warmer months. By moderating bright light and heat they help keep your rooms at the right temperature. That's a well-known summer benefit you can count on from your window treatments, but it's less well-known that in the winter they have a more literal pay-off: they save you money by cutting down on your energy bill.
Blinds and honeycomb shades help insulate windows, providing a buffer that keeps cold air from chilling the rooms of your house. This means less heat that you have to pay for – a win for your comfort level and your cheque book.
At Arlene's our job is to give you all the help you need in finding the the perfect solutions for your home. Come check out our Lower Mainland showrooms, or set up a complimentary consultation for solutions that will pay dividends for as long as you live in your house.
That's a promise you can invest in!
Treat Your Windows Right: Five Tips for Your Interior Redesign
October 4, 2018
Redecorating your space? Ready to update the living room, or change the way your entire home looks and feels? When you're making a fresh start, take the advice you'll hear from any professional decorator: don't neglect your window treatments.
Windows are the soul of your interior spaces. In every room, the treatments you choose for them – blinds, curtains, or shades – will enhance and transform your space, altering light, colour and mood.
Here are five window treatment tips to consider when redesigning or redecorating in your home.
Tip #1: Get Some Height
If you want to make your ceilings look higher, buy floor-to-ceiling curtains that are custom tailored to your room. They draw the eye up and down, and lend your space a feeling of tallness and height. Make sure that your curtains reach the floor or come very close, to within a half-inch to a quarter-inch.
Depending on your tastes, you may prefer that your curtains not only reach the floor but "break," puddling with an overlap of one or two inches. This can be an elegant option, depending on how the room is used. If you have small children or pets that might trample on it, it's best to keep the curtain just above the floor.
Tip #2: Blinds or shades?
First, what's the difference? Blinds are made of hard vanes or slats that "stack" when pulled up to reveal the window. Shades are generally made of one piece of soft material. Roller shades (you guessed it) are drawn up onto a roll, while honeycomb shades – also known as cellular shades – are gathered up or down.
Blinds are an excellent choice in your newly decorated space if you want to be able to control the amount of light coming into a room. You can open the adjustable vanes in the morning to let in daylight, or close them in mid-day to block too much hot sun.
Wooden-slat blinds, especially those with wide slats offer a classic appearance that will go well with a summery, tropical aesthetic. If you're going for a cooler, more modern look, try neutrally coloured blinds with thinner slats.
Shades can do something that blinds can't: they can soften and alter the tone of the light coming into your room. Honeycomb shades, like those in the Hunter Douglas Alustra® collection, come in a curated variety of design-inspired textures and colors to suit your furnishings and interior palette – and by trapping air they also offer an insulating quality to mediate temperature.
Tip #3: Sliding doors
Laying out a new look in a room with sliding doors? Traditionally these are well-matched with vertical-slat blinds to match their orientation, but you can also consider a more contemporary look with gliding track window panels. Track panels are lightweight, and slide easily. The Skyline® series of gliding panels by Hunter Douglas comes in over 600 fabric styles and woven textures to match any aesthetic.
Tip #4: Having it all
When choosing shades to match your new interior you can opt for a neutral color, or go for a shade that matches the colour that is most dominant in the room. Hunter Douglas shades come in a wide variety of hues and colours, allowing you to achieve a great match. In an intimate bathroom space, you can match your shades to your coloured trim, and even your towels! Professional consultants like those at Arlene's can help you navigate all the options.
Remember that you don't have to choose between shades and curtains: you can have both. You can give your room a pop of colour with curtains while relying on neutral roller shades to mediate light.
Tip #5: Tricky windows
Windows come in all kinds of sizes and in so many locations—and some are trickier than others. Take arched windows, for example. They are beautiful and attractive, but sometimes they require shading, particularly if located in a bedroom. You can try pleating a sheer covering from the bottom center of the arch and fanning it out to soften the light— and on the lower, rectangular portion using another style of window treatment that complements it, like Roman shades.
Dormer windows and window seats can be made more attractive with the addition of Roman shades as well, or a combination of woven shades and curtains.
There are so many kinds of windows to work with: corner windows, bay windows, cathedral windows. Windows in your utility room, even in your shower. Our professional design consultants can assist you in finding solutions for them all, no matter how tricky.
Let us know how we can help make your new design everything you want it to be! You can give us a call, drop into one of our showrooms here in the Lower Mainland, or click here for a complimentary consultation.
Window Treatments: a Beginner's Guide
September 13, 2018
Feeling a little overwhelmed with your choices of window blinds and shades?
Choosing a window treatment to suit your home and taste can be daunting at first— but don't worry! We're here to help.
First, let's look at the purpose of window treatments and some of your options.
Blinds and shades serve several practical purposes. Among other things, they can:
Soften or block sunlight entering your rooms
Protect your rugs, carpets and upholstery from fading
Provide varying levels of privacy, and reduce noise from outside
Insulate your home and make it more energy efficient, keeping it cooler in summer and warmer in winter
These are all very important functions. But perhaps most important is how they work with light, and your own decor, to create the style and atmosphere you want in your home.
Shades and blinds can make rooms look more spacious, and turn direct sunlight into ambient tones. Depending on what you choose, they can make your rooms feel cozy or ethereal, modern or classic, cool or warm.
The most important thing to look for in your window treatments is that they suit your taste, and that they're high quality. At Arlene's our consultants can help you find the window treatments that are perfect for every room in your home.
Here are a few things to consider before choosing the ones that are right for you.
What's Your Style?
When it comes to home decor and windows, your guide throughout is your own sense of style. Certain window treatments can give a room a classic look, such as plantation style wood blinds.
Roman blinds can be classic or contemporary, depending on the type— some look warm and luxurious, others natural and organic.
Sheers, roller shades and honeycomb blinds tend to lend a room a clean, contemporary look. They can be found in neutral shades that focus on function, or in colours that complement your furnishings, rugs, or art.
What's your style? Classic or contemporary, country or eclectic?
Remember, you can vary your style in different rooms. Maybe you want sleek blackout shades in your media room to complement a modern feel, and woven wood shades in your dining room to a give warm, "heritage" impression that will complement that antique dining table. The choices are all yours, and we can help you find the window treatments that will match your vision for each room.
Whatever your style, be sure to seek out high-quality fabrics and window systems that will last— and that can be easily cleaned and maintained.
What Are Your Windows?
You don't need to sacrifice function to get great style, but you do need to think about the size, type and placement of your windows.
In terms of size and type, not all windows are the same: they're made to be used in different ways. Some windows don't open at all, while others slide open, and others lift. Some are constructed in hinged casements that open with a crank.
Also, think about context—where your windows are, relative to the outdoors. Does that big window in the back of your house let in direct sunlight, or is it shaded by trees? Does it open onto your private backyard, or is there a public pathway or neighbour's house directly across from it?
So many types of windows, and so many places they can be situated! The good news is that there are blind and shade solutions that suit all of them.
For large bay windows in your great room or living room that don't have much light exposure— and don't open onto public view— you may want to go with a drapery solution that stays open most of the time.
For large windows that do receive a lot of light throughout the day, or that open onto your neighbours' homes or public spaces, explore your options for roller shades and honeycomb shades or another type of blind. For example, the Silhouette window shadings by Hunter Douglas feature soft adjustable fabric vanes, which appear to float between two sheer panels. They do a beautiful job of diffusing harsh sunlight and adjust easily.
Do you have single-hung or double-hung windows, in your kitchen or elsewhere? These are windows where the sash is in two parts, and either one (or both) of them can slide up and down to allow in a refreshing breeze. Cellular shades and sheer shades can work well with these, offering a clean and elegant look while raising fully out of the way to allow in fresh air.
Casement windows can be paired well with wood blinds or Roman shades, among many other styles of blinds, as they can be easily moved to operate the crank.
If you have sliding doors, the sometimes cluttered nature of their appearance—along with the amount of light they let in—can be reduced with vertical blinds. Here you have a choice of either slats or a more contemporary, urban look of sliding panels, like the Hunter Douglas Woven Textures series, which features elegant design-inspired fabrics, colors and textures.
Ask The Experts
With all the types of windows, and all the choices available to you— blinds, shades, sheers, films and draperies— there are a lot of questions to ask!
Whether you're feeling confused, overwhelmed or just excited by the possibilities, we're here to help. You can start by clicking here for a complimentary consultation, or you can give us a call or visit one of our Lower Mainland showrooms.
We'll be delighted to help you find the right solutions wherever you need them—for one room, or your entire home.
Choosing the Right Blinds: Everything You Wanted to Know Were Afraid to Ask
August 8, 2018
Choosing window treatments is one of the most important design decisions you can make in your home. Blinds create the lighting and atmosphere you want in different seasons and at different times of day and are instrumental in regulating temperature—keeping rooms cool in summer and retaining heat in winter. They reflect your own taste and style as they filter light and prevent glare.
But which ones should you select for the various rooms in your house when there are so many options to choose from?
Our professional staff at Arlene's will help walk you through your choices of Hunter Douglas blinds and window shades, letting you know the pros and cons of various types as well as the styles and colours on offer.
To get you started finding the best blinds, here are answers to some common questions about the differences between window covering types.
Blinds, Shades and Sheers— What's the Difference? 
Generally speaking, blinds are made of slatted, adjustable vanes that you can adjust to let in light. They can be oriented horizontally or vertically, and are made of hard materials like wood, aluminum or, as with the unique Hunter Douglas EverWood®, a synthetic polymer made to resist warping and fading.
Shades, on the other hand, are made of softer materials, in one continuous piece with no gaps. These can be made of fabrics of just about any colour or type—cotton, linen, or synthetics. They are usually raised up or down by winding on a top-mounted roller dowel, but, as with Roman shades, they can instead gather at the top of the window in large, attractive pleats.
Sheer blinds, like Hunter Douglas Luminette® or Silhouette® window treatments, incorporate specially crafted sheer fabrics. Window sheers transform harsh sunlight into a beautiful ambient light and can bring an ethereal quality to rooms that have large windows or sliding doors.
Should I Choose Blinds or Shades?
Your personal taste will be the guide here, and our decorators can come to you to do an in-home consultation to help you make an informed choice.
Blinds offer a range of adjustment levels— the slats can be shut tightly for privacy and blocking light, or tilted to let in as much light as you like. They can also be pulled up completely to the top of the window, fully opening up the view.
If you choose blinds, the slats tend to come in three sizes: 1/2-inch, 1-inch and 2-inch. The wider slats give a classic look, like plantation shutters. Thinner slats offer a more sleek, contemporary profile. The 1-inch slats that are in the middle split the difference, and are often your most affordable option.
Shades, because they are made of one piece of material, are either up or down— they have no adjustable slats. Depending on the fabric you choose, however, they can block almost all the light, or allow a softened light to shine through.
Hunter Douglas honeycomb cellular shades, like their Duette® style, are also engineered to provide energy efficiency in cold or warm climates. Also known as honeycomb blinds, they trap air in their pockets, insulating your window areas and helping lower energy bills.
What are the Pros and Cons of Horizontal Blinds versus Vertical Blinds?
There are some practical things to consider when choosing between vertical and horizontal blinds. Vertical blinds tend to work better with very large window areas, as with sliding doors. Sliding doors open from side to side, so vertical blinds that mimic that movement are a good choice.
Like horizontal blinds, vertical slats can be opened to let in light, or they can be moved all the way to the side to allow an unobstructed view. They are easy to keep clean and dust-free, and vertical blinds made of softer fabrics have the advantage of being noise-free when sliding doors are opened to allow in wind.
Another option for large window areas and sliding doors are panel track blinds, which give a sleek and contemporary look. The Hunter Douglas Skyline® gliding window panels are an excellent option that comes in over 600 roller and screen-style fabrics.
At Arlene's, we offer a wide selection of Hunter Douglas blinds, shades and sheers that we will custom-tailor to suit your windows and sliding doors:
Honeycomb shades
Roman shades
Woven wood shades
Roller shades (screen and banded)
Blackout shades
Shutters
Vertical blinds
Horizontal blinds (wood and metal)
Sheer blinds and shadings
Pleated shades
What's the Deal with Motorized Shades and Blinds?
Arlene's can add motorization to virtually any window treatment. Motorization units offer remote controls to raise, lower, tilt or draw your window coverings. They are especially handy on tall or hard-to-reach windows in areas like stairwells or great rooms.
These systems bring a new level of customization: you can program them to remember where you like your blinds set— at halfway or two-thirds covering your window, for example— and return them to that setting with a click of a button.
Motorized systems can be installed via a wall switch, or via a wireless system. You can even choose a system that allows you to control them with an app on your smartphone. You'll be able to raise or lower individual units, or you can select a group (or groups) of window coverings to move together— even in multiple rooms.
Motorized systems are surprisingly affordable, and can be created with no additional electrical wiring. Talk to us about which one is right for you.
One Last Question: What are Window Films?
Professionally installed window films greatly enhance the energy efficiency, look, and functionality of your windows.
Window films reduce glare by up to 87%, making it easier for you to watch television or work on a computer. They also protect you and your family by holding shards together in the case of an accident or storm shattering your window.
Window films also protect the rest of your home. Most fabrics, furnishings and artwork can be damaged simply by allowing daylight to pass through an untreated window. By blocking more than 99% of all UV rays, window films with UVShield™ technology are made specifically to protect your home, preserve the colour of your furnishings, fabrics and carpets, and help protect fine antiques, woods and works of art from discoloration and fading.
At Arlene's our window films are available in a variety of light and subtle shades— so you'll be able to enjoy your view without even knowing it's there.
Come in to Arlene's Today — and Visit our New Website for 10% off on Arlene's New Furniture Offerings!
Visit our Burnaby and Langley showrooms to learn all about your best choices for window treatments. We've been here for 35 years and we are the experts in Metro Vancouver not only for window coverings but also for bedding, and now for furniture as well! Our just-launched website now features hundreds of new furniture items.
To celebrate our anniversary, we're offering ten percent off any furniture purchase on our website—and we've expanded to delivery offer to Vancouver Island and the Okanagan.
We look forward to helping you make your home everything you want it to be!